How Google Photos works
You are a lover of photography and when you are away from home you always take lots of photos from your smartphone. Unfortunately, this passion of yours also has consequences, such as having the memory of your device always full and the need to frequently backup photos taken on a PC, in order to free up space on the smartphone. Yeah, a real nuisance, I understand you. What if I told you that I can suggest an alternative to your manual photo backups on your PC, via a smartphone app that automatically loads and organizes photos online?
No, it's not science fiction at all! I'm simply suggesting you try Google Photos : an application available on Android and iOS mobile devices, which automatically creates a backup copy of photos and videos taken on smartphones and tablets, cataloging and organizing them to allow you to find them more easily. How do you say? Have you heard of it but have never had the opportunity to investigate the subject? Okay, then take some free time to calmly read this guide of mine.
In the next chapters, I will explain in detail how Google Photos works and how you can use it on both Android and iPhone and computer. Don't worry if you are new to the world of technology: in this tutorial of mine, I will explain step by step how Google Photos backup works . You will see, I am sure that at the end of the reading you will agree with me about the usefulness of this tool and you will be able to share what you have learned with all your friends in need of a similar tip. Ready to get started? Yup? Perfect! Have a good reading!
Before getting to the heart of this guide, it seems only right to make an overview of Google Photos : a Google service that, as already mentioned, allows you to synchronize photos and videos in the cloud and therefore always have them available on any device. But not only.
Google Photos is also a photo gallery with intelligent features that automatically catalogs photos and videos in order of importance, also integrating some features for photo editing and allowing the creation of movies, collages, animations automatically or manually.
If you're wondering how synchronization on Google Photos works , I'll explain it in detail: you should know that Google Photos allows you to back up photos and videos in different formats. High Quality storage is limited to uploading photos at a maximum quality of 16MP , while for videos the resolution is up to 1080p (FullHD). This means that photos and videos with higher quality than indicated will be compressed to comply with these limits.
Since this type of backup can take time to upload to the cloud, you can also take advantage of the Express feature (only on Android), which synchronizes photos with a maximum quality of 3MP and videos at a maximum resolution of 480p (Standard Definition ).
In case you do not want to compress your photos and videos and therefore want to keep their original quality (for example photos taken at more than 16MP and videos in 4K), you can upload these multimedia contents in Original quality .
Obviously, depending on the format used, your free storage space by 15GB of your Google account will be reduced. Only the photos and videos in High Quality and Express synchronized before June 1st 2021 are not counted in the space thresholds of your account.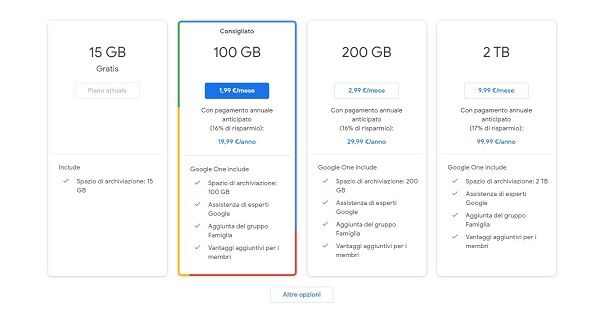 Alternatively, if 15GB of free space isn't enough, you can purchase a Google One subscription . Prices for cloud storage start at € 1.99 / month for 100GB , € 2.99 / month for 200GB and € 9.99 / month for 2TB . Since Google services come with an initial free storage space ( 15GB ), you can enjoy the service in original quality until you run out of free space.
To use Google Photos , you need to have a Google account . If you use an Android smartphone , you will probably already have a Google account available, as you will have associated or created it during the initial configuration phase of your device, since it is also used for access to the Play Store; you can therefore also use it for Google Photos.
If, on the other hand, you use an iOS / iPadOS device and this is the first time you use Google services, I refer you to my guide on how to create Google accounts . You will find all the information you need to carry out this preliminary procedure. If you already have a Google account, however, you can safely continue reading: in the following chapters, I will explain in detail how Google Photos works on all the devices for which it is available.

How Google Photos works on Android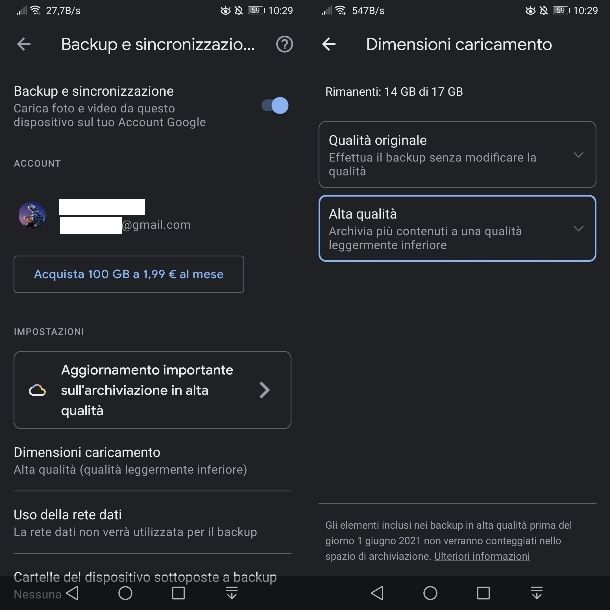 If you have an Android device , you should find the Google Photos app already available by default on your smartphone or tablet. If not, you can download it from the Play Store, via this link .
To start it, search for Google Photos in the list of apps installed on your device and press its icon. Once opened, if you have not yet logged in with your Google account, enter your login credentials.
Once this is done, you will be asked if you want to enable the backup feature immediately or postpone it later. In case you skipped this step, on the main screen of the app, tap on your thumbnail , located at the top right, and select the Photo Settings item , to open the menu dedicated to the app settings. Check that the Backup and synchronization item is active and, if not, press on it and move the appropriate lever next to the wording of the same name to ON .
Furthermore, if you wish, by pressing on the item Device folders backed up , you can enable the synchronization of specific folders of the device, to back up the photos also contained in other folders, such as the one with WhatsApp or Instagram photos . Under Upload size , you can set the quality of the photos, as I explained to you in the introductory chapter .
Instead, make sure that data synchronization is disabled, to avoid unwanted charges if you exceed the data traffic included in your SIM. In this regard, press on the item Use of data network and make sure that the levers next to the items are set to OFF Backup photos using data network , Backup videos using data network and Backup while you are in roaming .
In the settings panel you can also press on the item Free X GB , to remove from the memory the photos and videos that have already been backed up.

How Google Photos works on iPhone
You can use Google Photos even if you have an iPhone or iPad . The Google app for cloud storage can, in this case, be configured as an alternative to iCloud , the default cloud platform of Apple mobile devices, which also offers a service dedicated to backing up photos and videos .
You can use Google Photos on iOS (starting from version 10 of the operating system) or on iPadOS , by downloading the app from the App Store . Once downloaded and installed correctly on your device, start it through its icon on the home screen.
At this point, allow Google Photos to access your photos by responding affirmatively to the request shown on the screen. Once this is done, log in with your Google account, if you have never configured one on your iPhone / iPad, and press the Back up item to immediately activate the synchronization; skip this step, to customize the configuration later.
In the latter case, press on your thumbnail at the top right and press the Google Photos Settings item , to access the service configuration panel. Then press the Backup and synchronization item and move the appropriate lever that you see to ON .
At this point, choose the type of backup you want to make, by clicking on the Upload size item located a little further down, and choosing between High quality or Original (I told you about the differences between the two in this chapter of the guide ). Also, if you do not want to use cellular data for backup, move the levers next to the words Use cellular data to back up photos and Use cellular data to back up videos to OFF .
At this point you will have finished configuring the application and you will only have to wait for your media library to be backed up. The photos that have been backed up are stored online and you can, therefore, possibly remove them from your device memory. You can do this by pressing the Free up space button , which you find by reaching the Google Photos Settings> Manage storage space items .
How Google Photos works on PC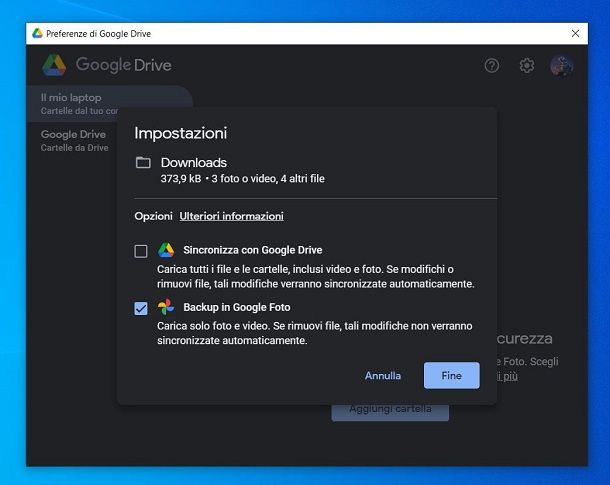 Being a cloud storage tool for multimedia content, Google Photos is easily accessible from a PC, both for viewing and uploading them. The operation of Google Photos is very similar to that of the app for Android and iOS / iPadOS.
Going into more detail, you have two possibilities to use Google Photos on PC : use the Web panel , through which you can manually upload photos and videos and view content already on the cloud, or the appropriate desktop client , for automatic content synchronization .
To use Google Photos from the web , first connect to the main page of the service and log in with your Google account (the same one you used to access the app). If you click on the ⚙ icon , you will have access to the panel through which you can adjust the quality of the uploaded photos.
What you need to do is choose whether to upload the photos using the Original or High Quality settings , which I told you about in this chapter . Once this is done, you can upload photos and videos by clicking on the Upload item located at the top right.
If you have tons of photos and videos that you don't want to upload manually, as it would take too long, you can download the official Google Drive desktop client , which uploads content automatically. All you have to do is reach this link and hit the Download Drive for Desktop button .
When the download is complete, if you are using Windows , open the .exe file obtained, press Yes , choose the shortcuts to add to the desktop and press the Install button . On macOS, on the other hand, double-click on the .dmg file and then on the .pkg file contained in it; then press the Continue keys (twice consecutively) and Install , enter the Mac password and then press the Close key .
After carrying out the procedures described above, log in with your Google account, following the procedure shown on the screen. Now is the time to configure the desktop client for uploading your media files. Then start the newly installed tool by clicking on its icon in the Windows taskbar or in the macOS menu bar.
Once this is done, press on the gear icon in the screen pane and then on the Preferences item . Now you have to select the folders you want to sync, via the My laptop tab ( My Mac on macOS). After selecting the folder, choose the Backup to Google Photos option , to upload photos and videos only to Google Photos and not to Google Drive.
To choose the backup quality, instead, in the Preferences section of the Google Drive client, click on the gear icon at the top and, in correspondence with your Google account, locate the Google Photos section , choosing whether to keep the original quality of the photos and video or whether to perform file compression (up to 16MP for photos and FullHD for videos).